History
The Noah's Ark Appeal was launched in May 2000, with the sole task of raising funds to build a specialized children's hospital in Wales – something every other European country already had.
Hearing from doctors and nurses that a purpose built children's hospital for Wales was badly needed, a 10 year period of lobbying and campaigning by the charity's founder trustees began.Wales was the only country in Europe without a purpose built hospital for sick children; it was time to take action!
The mission was to raise £5 million for the Phase One building costs, and they were helped by early ambassador Charlotte Church (aged just 14 at the time).
Phase One was completed in March 2005, and the first patients – those with long-term illnesses – were admitted. The official opening was in 2006, with patron Catherine Zeta-Jones and her husband  Michael Douglas. Another famous Welsh person supporting the hospital is Shirley Bassey.
Phase One includes two medical wards (named Ocean and Land) as well as bedside parents' accommodation, family rooms, parental lounges, playrooms and an education room as well. Similar facilities are encompassed by two floors named Sky and Space which make up the children's cancer clinic.
For the construction and fitting of Phase Two, and additional £7million will be required. It will include many facilities that are currently outsourced, such as five operating theaters and a radiology unit.
News
23 July 2010 – Catherine Zeta Jones and husband Michael Douglas toured the hospital  to help celebrate the 10th anniversary of the fundraising campaign, and to see the hospital four years after it had opened. A video of the visit is at the BBC:
http://www.bbc.co.uk/news/uk-wales-south-east-wales-10730545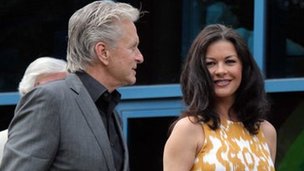 Dec 19 2011 – Health Minister Lesley Griffiths announced that £63.8 million of funding for Phase Two of the hospital should see it completed in 2015.
Dec 19 2011 – Charlotte Church announced that the Noah's Ark Christmas Stocking Appeal had raised perhaps £10,000 towards Xmas gifts for patients.
Apr 15 2012 – A charity soccer match between South Wales Police and Cardiff City at the Millennium Stadium has raised£2,000 for the Noah's Ark Appeal.
Playing against the police officers were Bluebird legends such as Roger Gibbins, and the former professionals won by three goals to one. The Noah's Ark Appeal is the chosen charity for 2012 of the Llanedeyrn and Llanishen neighbourhood policing team, who were the organizers for this event.
Official Charity Web Site:
http://noahs-ark-appeal.org
Wikipedia Page for the Hospital:
http://en.wikipedia.org/wiki/Children%27s_Hospital_for_Wales